Products
TATPROF solutions allow to realize the most challenging ideas of architects
TPT-95В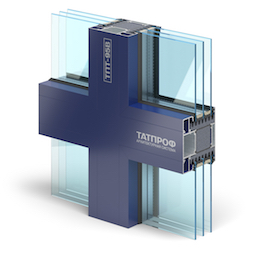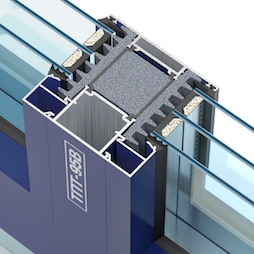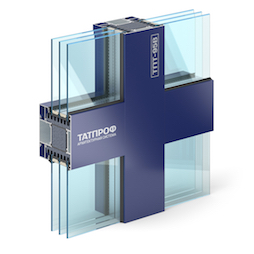 Application
TPT-95 series with improved thermotechnical characteristics is the result of TPT-65 and TPT-72 series development, technically and technologically more advanced compared to previous series while maintaining low costs. These series are unified in terms of use of the combined profiles component units, similar connectors, infillings, components.
Profile
Compound extruded profiles made of 6060 aluminum alloy according to GOST 22233 2001, with 57 mm thermal bridges made of polyamide-reinforced glass, geometrical dimensions correspond to GOST 22233-2001
Design thickness of profiles:
frame — TPT-95=95 mm,
casement— TPT-95=103 mm
Anodizing and polymeric powder coatings are used as a protective and decorative coating of aluminum profiles. Coating color is according to RAL color catalog.
Infilling
Double-glass panes of various designs and thicknesses from 44 to 58 mm are used as transparent infillings.
Sealers
Sealers from elastomeric materials, in accordance to GOST 30778-2001 (light-, ozon- and frost-resistant) are used for sealing and weather-proofing.
Component parts
Steel elements used for fastening of aluminum structures and those contacting with aluminum parts must have a protective coating in accordance with the instructions of SNiP 2.03.11
Fasteners
In TATPROF design systems the self-tapping steel screws with protective coating according to GOST 9.303 or made of stainless steel are used.
Fittings
For casements the fittings of Sobinco, Giesse, and Saturn companies are used, it is possible to use products from other manufacturers (Roto, Fapim) made for Europaz frame version V.01 (14/18), casement slot is 15/20.
Storage
Casement elements should be kept in package, on wooden linings in closed dry storage rooms with hard flooring. Storage in open areas is not permitted.
Installation
Aluminum structures installation is fulfilled in accordance with GOST 30971-2002, work execution plan approved accordingly, as per installation instruction PX.00.00.000.001 IS /TATPROF Aluminum Construction Systems.
Download documents
